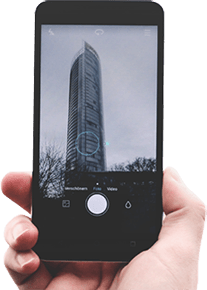 Apple Application Development
Developing Apple apps needs dedication and passion. At IT Chimes, our highly qualified and experienced team takes care of all the latest available technologies and develops the apps accordingly. The bugs are fixed before launching and we believe in keeping space and scope for further development and updates.
Our Expertise in 
iOS Development

At IT Chimes, we provide one of the best qualitative iOS app development service, which are praiseworthy, user friendly and gives incredible results as output. We provide all kinds of iOS/iPhone application to our clients all over the globe.

At IT Chimes we try our best to provide our clients with the best experience by developing apps which gives you a satisfying experience on Apple's big screen and functions well with iOS apps to fit well in tvOS. With our apps get the best experience on the big screen of Apple Tv.

Like wearing watches? How about bringing the whole Apple experience on your watch? With our watch OS development service, get access to instant messaging, payments, online bookings, fitness strategies and navigation.

Ever since its inception, it has become famous for various enterprises as it has very powerful features and is a highly proficient programming language. At IT Chimes, we provide iPad and iPhone apps in Swift, objective application and development and its conversion to swift iOS 9 development services through swift.

The app allows you to connect directly to the Apple server and access you needs on the hook of a click. It serves as the best platform for developing apps for iOS. Our highly dedicated and experienced team develop apps iOS's basic code objective C. The applications are tested properly before submitting to give our clients the best app experience.

Our team are well experienced in developing pps with os x and cocoa based applications which are quite famous. We provide you the best Os X application app which will be approved by MAC and provide good benefits for your business.
Our Process of
Development
iOS, Xcode, TvOS apps cannot be developed without highly skilled and passionate developers. At IT Chimes, our engineers themselves use iOS enabled handsets to check the bugs, before launching it.
Our applications are user friendly and user centric. We develop our apps according to the needs of our clients and their business.
In the process of development, we also ensure that our apps provide your business with the maximum ROI.
Our team makes the high performing and easy download apps to make your life easy, and are compatible with all Apple handsets.

Satisfied Clients
We have a long list of satisfied clients. Our developed apps are full of potential and we keep space for updates and improvements.

Latest Technology
We use the latest technology in our apps, be it in software, language and platform to provide our clients with the best and latest experience.

Cost Effective Services
Since, we are based in India and offer cost effective services, with us your cost will automatically come down.

24/7 Service
We are committed to our deadline and support a 24/7 service. Therefore our client's services are done within their country's official time.
Liked our services? Want us to serve you with the best apps?
FEEL FREE TO CONTACT US