Bring a Physical Presence to Online Shopping
IT Chimes perfectly blends research, innovation and creativity to deliver best augmented reality (AR) services.
Our developers are proficient in multiple technical aspects to build high quality AR solutions based on your project requirements.
We help customers visualize your 3D models via augmented reality in real environment and in real time, at scale. We help you boost your sales and bring your product into life. You can even add custom trackers and 3D models on Augment Manager.
BENEFITS OF
AUGMENTED REALITY

Omni Channel Experience
We take product visualization to next level. It seamlessly connects offline and online channels to encourage engagement and drive sales

Increase Conversion Rate
Customers can try entire inventory products from their homes via tablets or smartphones. There is no space for guesswork left with the real-time augmented reality.

No physical Restrains
Augmented reality allows online shoppers and sales team to access the entire product inventory that eliminates any physical restraints.

Connect your online store and catalogs
We help you make your catalogue and brochure interactive. Let online buyers unlock your product inventory via scan of 2D marketing collateral.
CLICK ON YOUR PROFILE TO FIND OUT MORE ABOUT
USING AUGMENTED

Manufacturers
You can sync product models across different online retailers.

Retailers
Eliminate any scope of uncertainty by integrating AR product visualization.

Other Businesses
Different business like marketers, designers, architects can view and share 3D models in AR.
Seamless
Augmented Reality

Product Visualization
Your customers can try products on the go through smartphone and tablets. We let your customer visualize products in high quality from different position and angels to understand it in a better way. Augmented reality helps you with real size positioning.
With augmented reality, retailers now possess the opportunity to deliver seamless AR experience to shoppers, directly inside their mobile site or in the existing eCommerce apps.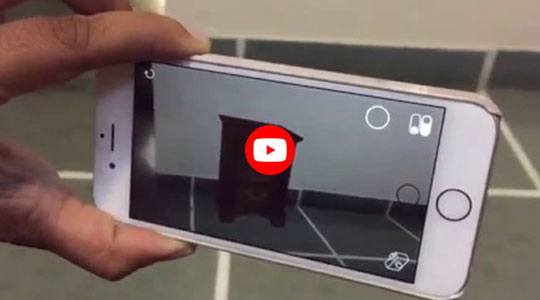 Ready to Get
Get Started

?

Be there with your customers whenever and wherever and deploy 3D product experience at every step of your customer's journey.
Native Mobile App Integration
Our experts create and design comprehensive custom mobile application for Android, iOS and beyond.
Mobile and Desktop Website Integration
We help you engage, boost safety and eliminate errors with seamless mobile and desktop integration
REQUEST YOUR FREE PROPOSAL NOW!
We Provide free consulting when you request a free job portal proposal from us. Our free job portal consulting will help you to plan your next job portal solution in a much better way. this is so easy!