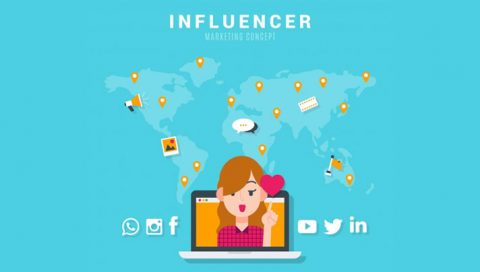 Influencer Marketing is one the most effective ways to get your brand in front of the target audience. But why? Because it works extremely well. It quickly builds your brand online and raises awareness by connecting your brand with your target audience in a more organic way. It has been noticed that Influencer Marketing has led to a tremendous growth in the recent years.
Business owners know the importance of advertising for their business, but still many have not turned to influencer marketing. You can use influencer marketing as an active tactic, to boosts your brand awareness and get your content to the eyes of your target audience and generate new leads for your sales.
Here is a list of five convincing reasons to get started with Influencer Marketing.
1.  Builds Trust
As noted, approximately more than 90 % of people trust recommendations from others (even if they are unknown). Influencers build trust, credibility and strong relationships with their target audience. They respect their recommendations and content. Influencer Marketing allows you to form a circle of trust among people in an organic way by creating a content that is relevant, relatable and reliable.
If you share an influencer's content you will soon gain their trust and attention and they will further share your content.
2.Improves Brand Awareness
Another advantage of Influencer Marketing is that it can greatly expand your positioning line and reach. Your Social Media users  will know more about who are you, your story, your brand and the services you offer.  The key to maximise your influencer marketing strategy is to ensure that you provide valuable content to your target audience. When an influencer can promote your brand, it also has the power to encourage followers to visit your brand website, subscribe to your services and purchase your products.
3.  Enhance your Content Strategy
By sharing an influencer content, you can help yourself to fill the gaps in your own content. This tactic works well in the situations where you run out of your content ideas and need valuable content to get published on your social media page.
4. Develop Winning Partnerships
Engaging and Connecting with an influencer can be an excellent start to a powerful and strong relationship. When you are into influencer marketing for the long run, you can never have an idea where these connections could end up. Live events, joint ventures and other opportunities may be in the works.
5. Reaches your Target Audience
Beyond other advantages of Influencer Marketing, this is a big and great one. Through certain relevant influencers, your content reaches to those social media users that are genuinely interested in your brand. With this, you don't have to spend extra on testing and searching the right target audience as your audience is already fostered on Social Media.
Conclusion
To sum it up, these were the five convincing reasons influencer marketing is good for your business. If you have not been using influencer marketing for your brand, then it's the best time to get started now.  For any information related to other internet marketing services, get in touch with us!