Apple iPhone 5 is the second iPhone launch, after iPhone 4S, when the visionary named Steve Jobs is no longer around to present it to the world.  The last time they launched it without Steve Jobs, some sour iPhone fan commented, "looks like Apple bought some plastic stickers of 4S and pasted it on iPhone 4". Will iPhone 5 mesmerize the world like Mr Jobs always succeeded in doing, or it will be another case of "much talk about nothing"? Only user feedback can tell us and while we wait for that, let's have a quick look at iPhone 5.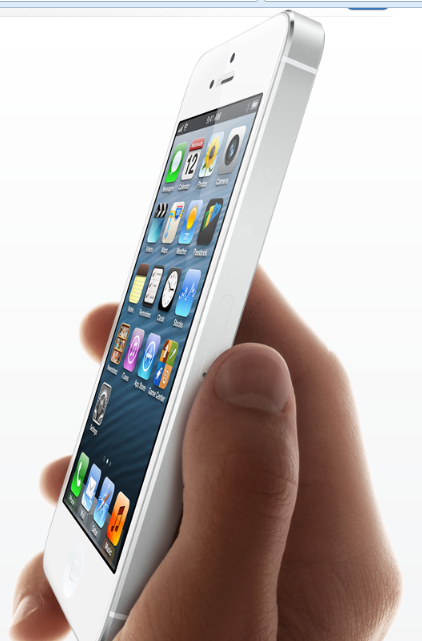 Frankly speaking, iPhone 5 came with all the features which you expect from an iPhone. I was not stunned of course but yes I was reading with a pleasant and mild surprise. I studied the tech specs and the features, which Apple is proudly boasting in its site. When a company launches a newer version of any phone series, what do you expect?  That, it will have enhanced features? Yes, exactly. And that's what Apple iPhone 5 is loaded with. Let's share with you the points Apple is proud of.
18% thinner
20% lighter
12% less volume.
Bigger, brighter and clearer display
100 MBPS wireless data connection
A6 chip which is more advanced and faster.
Ultra long battery
Better 8 MP camera
AI

bot

SIRI is much more improved and can answer more questions.
And oh yes, it has

iOS

6, the world's  most advanced mobile OS
As you would have guessed by now, this is the thinnest and lightest iPhone ever launched and it looks absolutely ravishing. I scrolled the pages in Apple's site up and down several times to see this magnificent display of precision and performance, presented in the most aesthetic and artistic way. Be it the aluminium and glass body or the precision matched inlays which is chosen from 725 uniquely cut inlays, iPhone 5 is taking style seriously. The sapphire crystal lens cover for the rear camera is almost as hard as the diamond preventing any scratch from casual use. And guess what, a crystalline diamond is used to cut the chamfers of iPhone 5. No wonder the beveled edge has its beautiful sheen! Do you consider your phone a part of your style statement? Do you want to catch attention during a party? Do you want to create a ripple among your pretty colleagues in office?  iPhone 5 can seriously help you in achieving these goals.
The tech-crazy guy isn't much unhappy either. Almost every tech-spec have been updated and upgraded considerably over iPhone 4S. But then we all have grown habituated of expecting the same from Apple since the first iPhone came into existence. While many wired ISPs struggle to provide 10 MBPS, 100 MBPS is the data speed iPhone can reach in LTE networks without any wire, that too, without being a battery monster. The battery will last for 8-10 hours depending on what you are doing with this most versatile phone of the planet. Ms. Photogenic can click more happily as the cam now is of 8 MP. And, before I forget, although this phone is 9 mm longer than iPhone 4S, the width is the same, means you can still type with one hand easily and comfortably.
Were you expecting a phone from another planet and got somewhat subdued?? Michael Yoshikami, CEO of Destination Wealth Management explains it this way, "There is not a wow factor because everything you saw today is evolutionary. I do think they did enough to satisfy". But the question arises then, why to discard my iPhone 4 or 4S and spend USD 200 to 400 to enjoy features which I am already enjoying, to a little lesser extent? The obvious answer is, to enjoy the same benefits to the fullest, to make a style statement wherever you care, to have the most beautiful phone of this planet.
How many people will go for it? Pundits predicted 10-12 million sales in this month alone. But, it is also unlikely that Apple will receive a major boost from this launch in the Smartphone market. It is long now Apple has lost the monopoly of this market. Android inventor Google along with other android device makers like Samsung is already breathing on their neck. In fact, if we calculate the user base, Android users are more than iPhone users, main reason being android is free meaning any company can use android as the operating system of their mobile device. To add to the competition, Microsoft has dropped their casual attitude towards Smartphone and pushing hard to sell its Windows 8 phones.
It is safe to conclude that Apple has delivered what we expected it to deliver, a better phone than iPhone 4S but it has to stay in the process of delivering quality unwaveringly to have a clear edge over its main competitors.