Last Year has been a phenomenal year for Android development. It makes us happy to say that we contributed in our own ways too, to Android app development. Google has recently published its list of 10 best apps of 2012. We need not agree with that wholeheartedly so we came up with our own choice of Recommended Android Apps of 2012.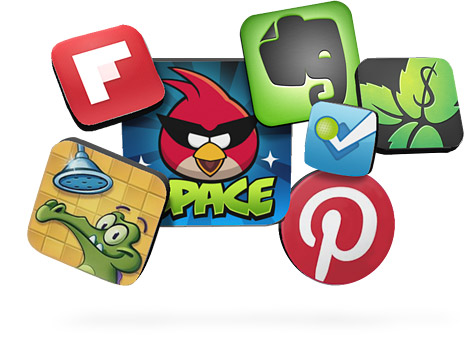 Google Drive : Our top choice really. It was earlier known as Google Docs, this has changed names and interface. You can store anything you want. You can edit anything you want. Frankly, it gives so many options to edit that I recently uninstalled the office suit I had installed in my Android. With a 5 GB free storage, you hardly need to upgrade. And yes, you can download to use offline as well.
EverNote: Another app I personally use and recommend. If you have a lot many things to remember and you rather suck at it, then you should use this. It can help you to store, organize and share text, photos, and voice notes. So, you never miss or forget a thing. $ 166 million funding says how highly finance people are thinking of its potential.
Bump :  Have you seen the ad by Samsung which won the best tech award of 2012? Saw how they swapped playlists just by touching smartphones? That's the way you can exchange your virtual visiting card. Instead of carrying it in your pocket, you can use this app to give it to others, provided they have a smartphone, and who doesn't have it nowadays? This also reduces the risk that the other person is misplacing your visiting card.
Asana : we all use it here on PC but it can be used on your Droid baby as well. This project management tool needs no introduction if you work for IT Chimes. If you don't, try this wonderful project management tool. The interface can be a bit complex at the first go but once habituated, it's a great tool to have. And all the PC features are available on Android as well.
LocalVox: This is a surprise entry!! How can our list end without an online marketing app!! This wonderful app can work a magic if you are into internet marketing then note what it can do. It can publish news, events and deal announcements including social media, websites, local directories and email newsletters. It also helps you to manage local listing campaigns on Google Places. If you have not tried it, try it now!!.