The web design sector is constantly changing and there are various trends that are constantly being introduced even so, many things are falling out of trend. 2015 has been an excellent year for web design and technological advancements and it is predicted that 2016 is going to be the better.
Good website development companies, will be looking to take full advantage of the trends that will drive businesses and enhance user experience in 2016. Take a look.
Natural Stock Photography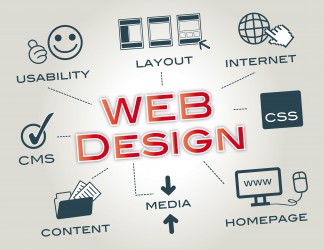 Based on a survey conducted by 3M Corporation, almost 90% of the data transmitted from and to the brain is visual. Also, visual are usually processed a lot faster in the brain that text.
This is why it isn't really a surprise that image and photography are widely used in web design.
However, the truth is that people are really tired of stock photos that look cheesy or are of low quality. This is why websites like Unsplash and Offset are now offering affordable high resolution images to design professionals. These solutions include stock photos that are natural and connect with individuals on different levels. Throughout the year 2016, we are definitely going to see photos dominate the website layouts and provide visual splendour.
Bold Colors
Color greatly impacts the viewer's perception and communicates specific emotional energy that are different from one another. The reason why colours have an impact is because they are straightforward and strong. There have been some outstanding redesigns taking place like Airbnb and Spotify. In 2016, there will probably be even more growth in the trend of bold colors.
Material Designs
Flat design models have completely evolved into a robust movement of material designs during the past few years. Material design is mainly a design language that was created by Google and was introduced during June 2014. Many applications have been using material designs and it is predicted that this trend will follow through in 2016.
Micro-Interactions
We'll definitely be seeing a lot more micro user experiences taking place that results in an exciting feeling when a user browses through a website.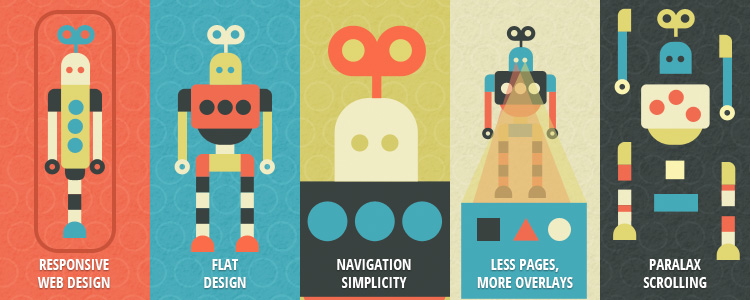 This trend is going to be causing disruption in industries where sites aren't that fun to look at. The industries that need to take leverage of this feature encompass Travel, Hospitality and Ecommerce websites.
Personalized UX
This is more of a functional aesthetic trend. In 2016, there will be a lot more personalized notifications, interesting content, and different action steps. This is the digital storytelling age, which means that graphics and content have to be designed (and redesigned) in a special way to suit every individual rather than adapting everything to unnecessarily big segments. Quick artificial intelligence will understand our preferences more than ever. Due to this, it is predicted that there will be more split screens that enable visitors to select their own type of adventure.
Card Design
The concept of card design has been taking place for centuries and it is being introduced into the digital world in a rapid manner. One of the prime examples is Pinterest. Card based designs are an excellent way to show different elements and demonstrate to the visitors, the variety of what is there to offer. We are definitely going to be seeing a lot more of the same, as some big industry players, such as Google, Twitter, and Myspace are beginning to utilize this framework.
Videos
Viewers usually spend more time on web pages that have videos. Since video content greatly helps in building trust between visitors and brands. The concept of adding videos to websites has received a more cheerful upgrowth during the past few years and 2016 will likely see this trend grow even further.
Infographics/Data Visualisation
In 2016, more sites are going to incorporate big data and infographics. Textual content might even take a backseat when it comes to infographics, as the latter visually paints an entire story that appeals to the audience more as compared to its former counterpart.
Animations
With the increase in the number of web applications coming live daily, we are going to see more subtle motion in animations and UI designs. This is going to take the experience to a completely new level. In 2016, be prepared for thoughtful animations with deeper thoughts and creative storytelling; instead of just ''pretty'' generic animations.
Web design is constantly evolving. Be prepared for digital experiences that are more dynamic, interesting, and personalised. There will be various smart solutions that make the way we work easier and help us in connecting and learning more effectively.