Innovation is when impossible is made possible by those who literally think out of the box. Technology on the other hand has a vital role to play in innovation. Technological innovation is a boon to mankind. It has not only changed our outlook towards life but has also altered lifestyles.
If you remember Tom Crisue starrer Hollywood film Minority Report, wherein he stands in front of a huge transparent glass screen and uses his hand movements to call up information and interact in a virtual interface with objects in 3D, is not a fantasy any more.
Yes, South Korean Samsung Group has made it possible by developing that screen for all you gadget freaks to take home. The multinational showcased its product called Samsung Smart Window at the International Consumer Electronics Show 2012 held at Las Vegas recently.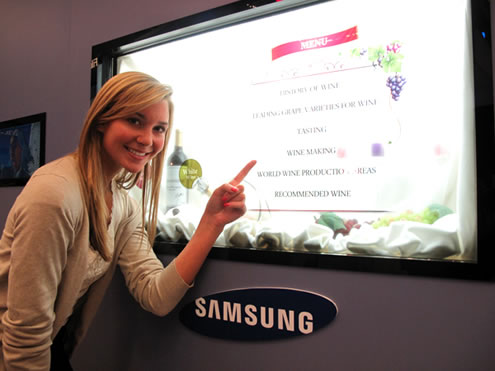 Courtesy: http://www.cybertheater.com/samsungs-46-inch-transparent-touch-lcd-display/
The Smart Window truly is a treat to everyone, feel people associated with the world of technology. NO wonder the amazing product won CES-2012 Innovation Award at its debut. Smart Window is indeed a smart creation from the electronics maker.
It is a transparent 22-inch LCD display that can do anything a modern tablet is equipped with. Comprising a screen resolution of 1680*1080 pixels and 500:1 contrast ratio, the screen is about 20-22 percent more transparent than the conventional LCDs known to us. That is however, not the ultimate thing about the Smart Window. The fact that one can look through the screen is the catch point about this incredible product.
The Window screen is made up of a single side mirror therefore you don't need to worry as Samsung has ensured your privacy to the highest degree. Imagine the delight of looking through the window at the lovely weather outside and getting the forecast for the coming hours all at the same time, same place.
Samsung's pioneering technology doesn't end here. The company has, besides creating the power-packed Window, developed a number of apps including digital blinds for it. The digital blind app adds a tinge of to thrill to the window as it makes you feel like controlling a (real) window real time.
The blind fold feature lets you control the Smart Window along with controlling the amount of light coming in by opening /closing the blinds. Sitting besides the window isn't going to be a boring affair any more as you can now access Twitter and even work besides accessing Microsoft Office. You can also watch TV on this window.
And when night falls the window screen, that has two edge-lighting sources, becomes visible in case it is really dark outside.
Samsung Smart Window is indeed set to redefine the world of technology inciting the spirit in us wanting for more!
[youtube mTVPVobDrms 100%]