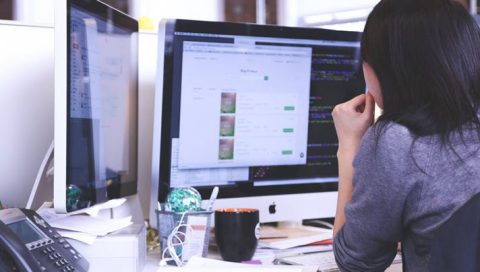 To make your business's online presence visible, having a good and attractive website forms utter necessary. The success of a website depends on two important things- web design and web development. Some people tend to confuse between the two, both are different in reality.
Difference between web design and web development
Web design basically refers to the outer look of the website, which the users get to see. A web designer deals with the appearance, the way the customers will interact with it. Web development on the other hand is based on two essential flavors- front end and back end development. It refers to coding by using HTML, CSS, some Javascript etc.
Web design trends to expect in 2017
The focus will be on mobiles and responsiveness
Responsiveness is not a new concept for websites in 2017. But, the companies will focus more on making everything responsive as it is essential for handling future competitions. The new trend here will be that the content will be designed essentially to fit the mobile screens and tablet screens first, followed by the desktop screens and laptops. Since, the young generations are mainly browsing contents on their small screens, the companies are focusing on broadscale responsiveness.
Animations will be necessary
The new trend is GIFs. If you wish to make your website successful, you need to have GIFs and animation on your website. Flat and simple designs are less attractive, whereas proper animations and GIFs are sure to grab the user's attention. Good animated videos describing your company's service will be beneficial.
Large scale utilization of rapid prototyping tools
More than a trend, this is a breakthrough that is doing rounds in the market from the previous year. In 2017, web designing will witness an extensive utilization of these prototyping tools. These tools includes UXpin, Marvel, invasion etc., which allows the creation of high precision website prototypes. Besides, the prototyping tools help in enhancing the usability, appearance of the website and further makes it more user friendly by easing the operations.
Web Development Trends To Expect In 2017
Web designing forms an important part of web development. As the web designing trends have been mentioned, here we will provide three important web development trends that you need to watch out for in 2017.
Artificial Intelligence
2016 has already seen the utilization of artificial intelligence and the year 2017 will witness its widespread use. Giant tech companies are already launching the AI technology to be used by the public.
Virtual Reality in gaming
The gaming industry have already started witnessing the virtual reality and in 2017, we will witness more of virtual reality in various apps ranging from virtual news to virtual real estate tours.
Yarn Package Manager
A famous tool in the java community, these make the work easier for the web developers by enabling them to install, configure, update and uninstall code modules within their application. Two important JavaScript package managers are NPM and Bower. A new one have been made by Facebook, which is expected to gain much popularity in 2017.
These are a few trends that we expect to see in 2017 in the context of web designing and development. Our's is a team of dedicated web designer and developer providing world class results to its clients. The future is what we are looking for as far as technology is concerned and like you all we are eagerly waiting for all the trends to make its way in 2017, which will be beneficial for all digital companies.