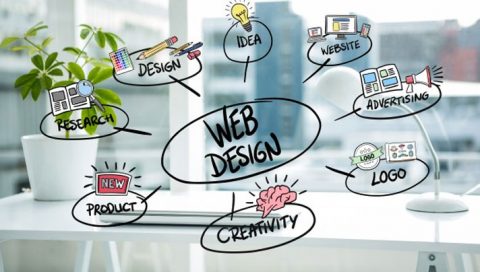 There are certain skills of web designing which can be understood gradually. But, one should definitely know few basics of web designing in order to create a well functioning website. Here are some points which will help you design your website efficiently.
HTML and CSS


If you are a web developer or planning to develop a website, you should be familiar with the basic language that powers web design. You must ensure that you know how to read, edit and troubleshoot basic HTML. You should be able to use alternate styles in CSS conveniently. These skills are easy to learn, but, can immensely help you in the long run.
JavaScript


You can code your design with merely HTML and CSS. But, if you are  also able to program your website with JavaScript, it will be definitely an upper hand for you in the competitive market. It will ensure automatic twitter updates, image sliders, different look while logging in and much more.
Visual Design


You need to have a design to create the website for sure. Design principal set-up, the feel and look of a website to attract users. You can experiment with your web font and colour palette. It ranges from grid system to proportional topography.
SEO and Social Media marketing


SEO is an essential component of any business that operates online. However, many businesses don't usually notice this aspect has to be that it be supported by the web design process. SEO cannot be embedded later or whenever the businesses wish to. Your website is certainly the center of your digital marketing world. You must remember that it's largest traffic source is SEO.
User friendly Framework


It is extremely important to use a framework unless you are an expert designer. You can use a common framework in order to make the website easily navigable. You can try a variety of frameworks that are available for web designing.
Content is a prime focus


Content is king in the world of website design. Since website has undergone exceptional changes in the era of mobile services, it is important to optimise your content according to any screen size. Moreover, the very foundation of the web is to provide relevant information. In such a scenario, content becomes the king that should not be sidelined or ignored.
Divide the Layout


You must try to make a structure of the website very simple. It will be easier to navigate by the users. The layout should highlight the content and theme of your website. You should add the necessary components in a simple layout.
Effective Prototype


In order to test the interactions and technology, prototype is the best option. You don't need a coding guru anymore to create an effective prototype. There are various prototype tools which make the entire process easier.
Web design comprises of classic basics and is revisited with new techniques and tools. A wise understanding of the these two components will help you become a better website designer. For any enquiry, contact us anytime.