We always blog about technology and platforms. This blog is different because we are going to talk about an operating system.
We are a web development company with our fingers in website development, portal development, application development and mobile application development, like iOS development or Android development.
Apart from the huge list of software we use to create those, operating system plays a great role as well. When I joined this company 8 months ago, the only operating system which was used was Microsoft Windows 7 except for the Macs where, as you may guess, Apple has its own operating system.
I used Windows 7 for a few months, but being a Linux fanboy (sadly not a power user though) I missed the security and other features which Linux alone offers.
In the meanwhile, I successfully managed to brick my last Compaq laptop with too much of experimenting and purchased an Asus Netbook for personal use. This is a better suited device for me as I don't run anything heavy, mostly I am typing things or watching films and Youtube. Of course I brought a naked laptop, as never would I pay for Windows crap. Anyway, I googled a bit beforehand and an OS came highly recommended, Fuduntu. I visited the site several times, read as much as I could and finally went for it. From the day I installed this on my netbook, I never even tried another OS even using a live CD. Fuduntu, however funny and punny the name may sound, is a very serious distro as they claim.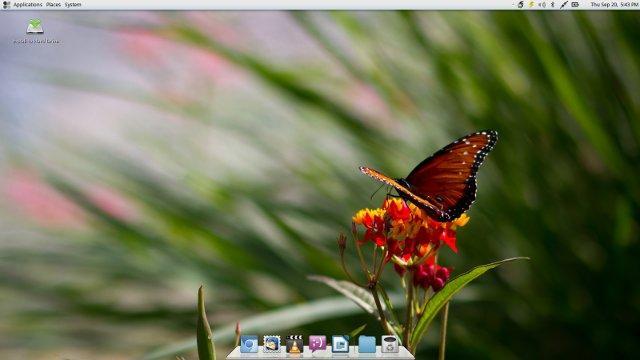 Back to office, I received the permission to run Linux Fuduntu on my PC and it is equally exciting here. Although I could have gone for Ubuntu, Fedora or Mint, I stuck to Fuduntu. Let me explain why.
The OS is very very fast and responsive. From my personal experience, it boots way faster than any of the big daddies of Linux.
They have managed to provide almost everything I need, in a very small space. For example, the complete Office suite, mail client, photo editing software, media players, two different browsers all come bundled with the distro.
As they included MP3 codecs, Infinity Freetype, Adobe Flash and more, everything works out of the box.
Rolling release makes it my favourite. Make no mistake, I have previously used Ubuntu and some of its derivatives, Fedora, Mint, Puppy Linux and DSL (Damned Small Linux) and I could never understand why there must be two processes called update and upgrade. By making it a rolling release, they have eliminated this difference and I simply love it. In countries like India, where even a 1Mbps line is still a luxury, this is the best way to stay updated.
Let me quote them here, "Fuduntu aims to fit somewhere between Fedora and Ubuntu…like Fedora we use RPM and focus on the cutting edge software…..and like Ubuntu we strive to be easy to use and still maintain an aesthetically pleasing design". From my experience, I have seen Fedora is much more robust and has a much bigger OOB hardware support but looks horrible, like a 90s OS (or distro, to be precise). Ubuntu looks better than even Windows 7 but doesn't support hardware as much, I had a hard time making my PCI sound card work in Ubuntu. Fuduntu is just perfect as it takes the best out of both and makes a unified experience of extreme personal computing.
Attention netbook and laptop owners, this OS lets you enjoy much more battery life. As I haven't tried any other OS on my netbook, I can't tell you exact improvement, but this claims to make the batteries last longer by 30%. What can I tell you from my personal experience is, the netbook I own gives me a battery life of 10 hours and 50 mins!! Amazing!!
Another factor is that this distro still uses Gnome 2, the environment I first used as a newcomer to Linux, way back in 2009. I simply hate Unity and LXDE isn't as great as I would have liked it to be. If you are a Gnome 2 fan, this is the OS you should stick to.
Finally the support, the human factor which must be mentioned. This distro isn't a small time amateur effort anymore, as of today, this is ranked the 14th most popular distribution on Distrowatch. And yet, Andrew Wyatt, the lead developer is very much accessible through his Google Plus account to answer even the most idiotic questions a newcomer like me might ask. This is something very very unique and I simply thank them for this, especially Mr Andrew Wyatt.
Anyway, in my office now not only I use this OS but 2 of my colleagues installed this on their personal laptops and using happily. Many other look very interested as they never knew Linux could be so much fun and swift.
Thank you Fuduntu team for presenting this lovely little darling and wish you all the best.