The previous fifteen years have been a continuous development stage for many web portals.

After advancements in web technology, from simple platforms for content display with no personalization capabilities, when portals are now integral part of web services, approaches, and larger integrations taking place.
This article is going to discuss top trends related to web portal development.
Emerging UXP User Experience Platforms
The most popular trend that is observed in different web portals is the use of UXP, a complete change from traditional software. The value proposition of UXP is that it offers a portal is simply to use and already integrated with important capabilities. Also, it emphasizes on excellent user experience and using different web technology (like Widgets and Rest) that have a quick implementation time. UXP's capabilities mainly depend on the web portal's niche. Even though it seems that UXP offers basic features such as content management, based on findings of analysis, there are various ethos types that portray the main UXP approach: business applications, employees, consumers, and agreements. For example, while customer web portal consist of targeting, employee portals are most likely going to include packages for sharing documents. Comprehending the ethos associated with your web portal projects and its main requirement is an important step.
Another popular trend is associated with the portal's nature. Several years ago, Gartner presented the idea of a portal that is actually ''portal-less', along with the lean portal.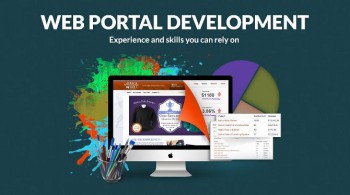 They are a substitute to traditional portals that have become too complex and full with unnecessary features. Also, traditional portals are well known for going over the budget and deadlines.
Lean portals are lightweight and really easy to use. It also incorporates modern 2.0 technologies, like AJAZ, representation state transfer, and SOA approaches. Recently, there are many web portals that have increased their lean portal features and included content management and campaign management, therefore creating lean solutions.
Better Business Collaboration With IT
The relationship between businesses and its partners is continuously evolving as consumers interacts more using online channels, rather than using older traditional channels. The web portal, accordingly, will then become an essential interaction channel with customers and is considered to be the main area where brands can enhance customer satisfaction and brand loyalty.
This trend is impacting the process of choosing suitable web portals, placing an emphasis on portal screens that are easy to use and enable users to effective manage and successfully optimize web portal pages, without the need for any coding.
The increasing amount of online applications is changing the portal into strategic platforms for customer applications. Due to this, digital marketers are currently looking for different ways to enhance sales results, enhance lead generation, and implement different marketing techniques. The web portal, as it continuously evolves, has great effect of the lifetime value of customers and is not only for the purpose of an integration platform for enterprises.
Due to this, customer facing web portals now include more digital and marketing capabilities like targeting, channel optimization, and advanced analytics. Also, customer portals should have different capabilities like analyzing data, offering strong tools to offer personalized users, and implement different campaigns.
The final and perhaps most significant trend affecting the portal market is the tablet and mobile revolution, including new patterns of usage which enables customers to be supported at any time and place.
It isn't enough that consumers can view data easily from their mobiles. They can also continue this across different devices, as a component of a unified journey for consumers. Also, users have now become more agnostic when it comes to devices and expect enterprise web portals to offer smooth multi-channel experiences. This need for a seamless multichannel experience needs a shift in the development of web portals.
Whether it's mobile applications, HTML5, or even responsive design, it can't be denied that web portal development is continuously growing and becoming more important. A main issue that large organizations face is deciding whether creating a special application for mobile operating systems or web portals for mobiles. Many companies have opted for a hybrid approach – optimized mobile pages that are wrapped in mobile applications for operating systems.
Web portals are now entering a brand new era. This is an era where online channels are now becoming a part of business channels and businesses use portals to create value for businesses, enhance results of sales, and increase customer loyalty.