Responsive Design is the buzzword around the Web technology market. More and more brands want their websites are not only optimized for desktop versions, but are also fully compatible with their counterpart devices such as Mobiles, Tabs, Pads, etc.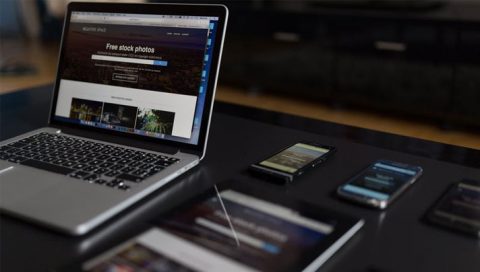 Source; http://psynapsis.co.uk
But laying down the foundations of a Responsive layout is not such a simple task. Ask a web designer to do this from scratch, and he will sure to have a second thought before approaching the project.
Thankfully there is a light that holds this ball game in a balance. Responsive Frameworks. Responsive Frameworks are the basic blueprint of website layout with various media queries, inputs laid out. This makes the designers job a little less complicated and more convenient.
Let us check out some of the top professionally used Responsive Frameworks in the market today!
 1.Bootstrap
Born of Twitter, Bootstrap is blessed with a wide array of customizable features that can fit every developer's kit. It allows various options for thematic options on the cosmetic end, where as provides streamlined customizing options available at various stages of the development process.
 2.Foundation
For every developer that frets mobile optimization, this is your tool. Foundation harks of its flexible grid system and advanced responsive framework. The responsive UI works so smooth and bridged that syncing up the same markup for both PC and Mobiles has never been simpler.
 3.1140px CSS Grid System
Resolution is the basic layout that scales the display according to the device. One way of making the site Responsive, is to optimize its display. 1140px CSS Grid System helps mobilize your resolution as per the device screen size. Not only does it allow downscaling, but it also supports wide screen expansion.
 4.Wirefy
Wirefy comes with preset layouts that can help the developers quickly present a sample layout if not more, for their clients during their initiation. It even comes with a plethora of creative designing elements vis-a-vis slideshows, galleries, menus etc.
 5.Gumby Framework
Gumby Framework is easy enough to be a gateway Framework which serves complete purpose for beginners as well as experts. It is not feature heavy tool, but it has all the needfuls that help create the Responsive Design you are looking for. Another plus for this framework is that it is exceptionally lightweight as compared to other counterparts.
Sure, a tool with remain a tool and it will not be able to do everything for you. But having a framework to start out with isn't so bad. These tools have earned the trust of thousands of renowned developers and continue to amaze the novices who are budding into the practice.