If you are an enterprise owner and the success of your business depends on its online presence, then you'd be aware of the myriad of activities that need to be regularly monitored and managed side-by-side. Business websites usually involve coding, real-time tracking, 24×7 customer support, updating product inventories and maintaining servers, amongst plenty other stuff. So how to proceed when you are advised to create a job portal for your website? It is true that maintaining a job board would mean an additional burden to keep a site regularly updated, hassle free and code optimized, but this is a piece of history and isn't that big a deal as it was couple of years back.
Through this article, we will cover some easy ways to create a custom job board for a website using WordPress. There are various WordPress themes and plugins than can efficiently cover your website's job board requirements. If you are a small business owner and want to create a job portal for your website, then you would usually be looking for experts on popular professional job boards, such as Elance and Freelancer. However, you could easily use the below discussed WordPress themes, and create your own job board without necessarily having any web development or web application programming background. Let's cover one WordPress theme for customizable job portal solutions.
JobEngine:-
 Price: $129
JobEngine is comprehensive WordPress job portal theme that lets one create a simple and organized job board on a website. It can't get more easy and simple than this. JobEngine theme comes replete with several stunning features mentioned below.
Job Management – Organize your listings by location, job type and category.
Email Templates – Automated messages to subscribers, advertisers and jobseekers.
Ajax Job Filters – Change/modify your search parameters without reloading the page.
Apply Online – Upload a Resume and send job applications directly from the site.
Payment Gateways – PayPal, Google Checkout and 2Checkout, besides manual payment.
Payment Plans – Flexible pricing and featured listings.
JobEngine stands out among several of its rival themes and is being used by many websites at the moment. Some of the key components of this engine are its customizable design tools, user-friendly tools and front-end controls, and mobile optimization, amongst others. Further, it installs in 5 minutes flat!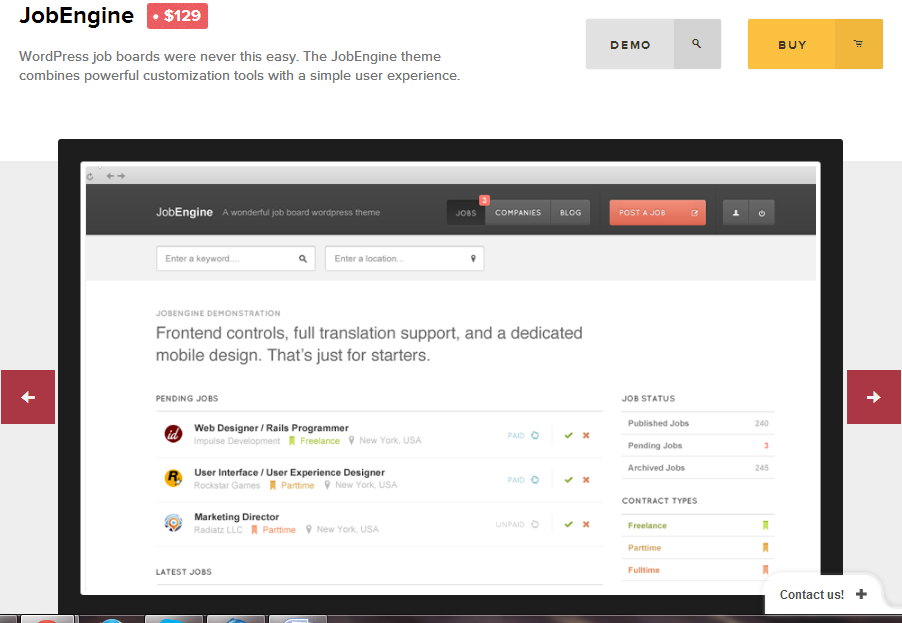 Image source: www.enginethemes.com/themes/jobengine
Jobify:-
Price: $55
The Jobify WordPress theme is a good example of how a job portal should be designed and organized. This job board theme is fully responsive and comes equipped with WooCommerce integration, front-end submission ability and translation ready. The developers also provide easy access to setup and video tutorials, which make Jobify a great choice as a custom job board. Further, this theme is flat and responsive, WordPress 3.6+ ready and full range of customization options including logo design, text colors and background graphics.
Features- 
Neat and Simple responsive web design.
WordPress 3.6+, WooCommerce and front-end ready.
Contact form support and XML dummy content included for easy setup.
Front-end submission and translation support.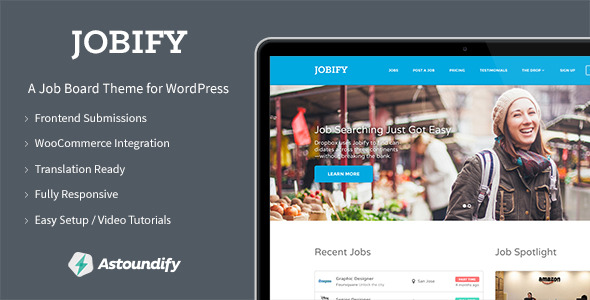 Image source: themeforest.net
Nine to Five
Price: $40
 Nine to Five theme offers more than 50 powerful features that can give you a total control over your website. Many web designers and developers have advised that if you want you want to create a job portal for your website and have complete authority over its customization, then Nine to Five WordPress theme will be the perfection option. Job portals are a sub-domain of web portal development, and have several complicated yet independent components working simultaneously.
 Features-

Multiple currencies support
Payment gateways
Salary and benefits
File upload and submission
AJAX live filtering
Customizable colors and styling
Maps and blogging platforms
Translation ready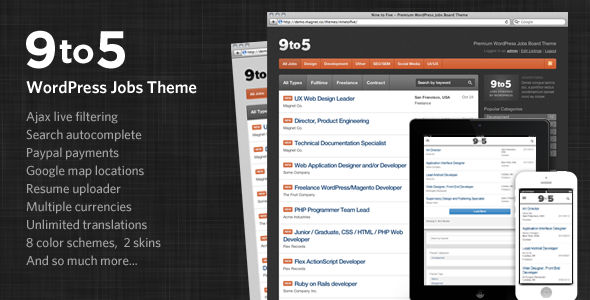 Image source: themeforest.net
 JobRoller
 Price: $99
JobRoller is a nice looking WordPress theme that can convert your simple job portal into a professional job listing. If you are looking to create a job portal for your website, then JobRoller would definitely save you great time and resource, since it comes pre-equipped with many useful features and has a number of customizable additions. This easy-to-use job board comes with a simple setup and can be installed with simple click.  Further, the theme has separate portals for employers and job seekers, along with many below listed features.
 Features-

Powerful admin panel
Widget-enabled sidebars
Facebook support
Multiple color schemes
Advanced security
PayPal IPN support
Paid job listings
Automatic job snipping